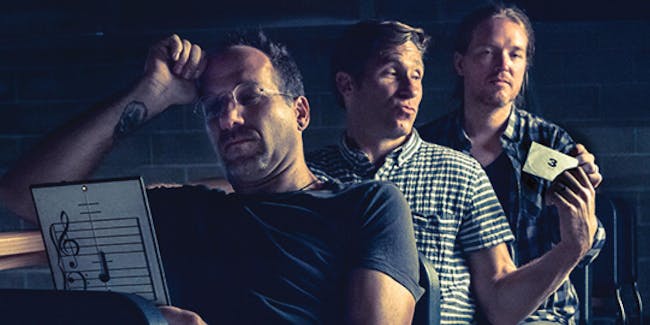 Presented by Indy Jazz Fest
Dave Devine
Scott Amendola, Shane Endsley
$20.00 - $30.00
Tickets At The Door
Guitar, trumpet, drum trio Invisible Bird play rootsy back beats to anthemic indie rock to acoustic modern jazz trio to ambient electronica.
A guitar, trumpet, and drum trio collectively led by three engaging and unique artists from the Bay Area and Colorado; Scott Amendola (Nels Cline, Mike Patton), Shane Endsley (Kneebody, Ani Difranco), and Dave Devine (Brian Blade Fellowship, Sun Kil Moon). Invisible Bird was formed in 2017 and it's debut album, Flutter to Fuzz, in October of 2018. The group broadly employs the use of electronics to branch out from the raw acoustic trio sound. Trumpet and guitar take turns covering bass lines and all three players create swirling digital textures with a hefty collection of boutique stomp boxes.
The three distinct compositional voices in the group craft original music that transport the listener from rootsy back beats to anthemic indie rock to acoustic modern jazz trio to ambient electronica. Invisible Bird also reinvents classic repertoire from artists like Nick Drake and Joni Mitchell and toys with new hits from artists like Bruno Mars and Rihanna.
Shane Endsley - trumpet, Whammy bass and electronics
DownBeat magazine named him as one of the "Top 25″ trumpeters of his generation and he was cited as a Rising Star in the 2013 Critics Poll. JazzTimes readers voted him the "Best Trumpet Player under 40." A truly modern and dynamic musician, he can be found on recordings with innovative jazz instrumentalists like Steve Coleman, Donny McCaslin, and Ben Allison as well as appearances with folk, rock, and pop icons like Ani DiFranco, Pearl Jam, and Shakira.
Shane is a founding member of the Grammy nominated group Kneebody. They have released ten recordings and have been playing premier festivals, concert halls, and clubs for over a decade.
Shane has made two solo albums, one of which was voted in to the LA Times' Top Ten of the Year. He is also an accomplished drummer and can be found on recordings with trumpeter Ralph Alessi. Shane is a member of the MSU Denver jazz faculty along side Dave Devine, Ron Miles, and Don Byron. Shane loves tacos and beer. Now you know all about him.

Dave Devine - guitar/effects
Dave Devine is known throughout the Denver jazz and rock scene for his virtuosity and versatility as a guitarist and composer. In 2015 he performed with Brian Blade and the Fellowship Band, played on the Blue Note recording Body and Shadow, as well as touring with Sun Kil Moon across Europe with featured artists Neil Halstead (Slowdive, Mojave 3) and Steve Shelley (Sonic Youth) Dave has performed throughout the US, Canada, U.K. and Europe with artists such as Ron Miles, John Grant, The Barr Brothers, Chuck Prophet, Art Lande, Marc Broussard, Janet Feder, Elliott Sharp, Matt Wilson, Ben Goldberg, and has recorded with producer/engineer Steve Albini. Dave is currently Coordinator of the Jazz and American Improvised Music department at Metropolitan State University of Denver.

Scott Amendola - Drums/electronics

For Scott Amendola, the drum kit isn't so much an instrument as a musical portal. An ambitious composer, savvy bandleader and capaciously creative foil for some of the world's most inventive musicians, Amendola applies his rhythmic virtuosity to a vast array of settings. His closest musical associates include guitarists, Nels Cline, Jeff Parker, Charlie Hunter, Hammond B-3 organist Wil Blades, violinists Regina Carter and Jenny Scheinman, clarinetist Ben Goldberg, players who have each forged a singular path within and beyond the realm of jazz.

No project better displays Amendola's big ears and musical ambitions than "Fade To Orange", an orchestral piece commissioned as part of the Oakland East Bay Symphony's Irvine Foundation-funded New Visions/New Vistas initiative. The roiling work premiered to critical acclaim at Oakland's Paramount Theater on April 15, 2011.

As a sideman, Amendola has performed and recorded with a vast, stylistically varied roster of artists, including Bill Frisell, John Zorn, Mike Patton, Mondo Cane, John Scofield, Cibo Matto, John Dieterich from Deerhoof, Wadada Leo Smith, Bruce Cockburn, Madeleine Peyroux, Joan Osborne, Jacky Terrasson, Shweta Jhaveri, Phil Lesh, Sex Mob, Kelly Joe Phelps, Larry Klein, Carla Bozulich, Wayne Horvitz, Johnny Griffin, Julian Priester, Sonny Simmons, Pat Martino, Jim Campilongo, Bobby Black, Larry Goldings, Paul McCandless, Rebecca Pidgeon, and the Joe Goode Dance

Venue Information:
The Jazz Kitchen
5377 N. College Avenue
Indianapolis, IN, 46220